Anton Stankowski
Gelsenkirchen 1906 - Esslingen 1998


Anton Stankowski trained as a decoration and church painter between 1921 and 1926 before studying under Max Burchartz at the Folkwangschule in Essen, where photography as well as graphic design and typography were already included in the curriculum. While still a student, Anton Stankowski submitted his first commercial graphic designs to the Canis Agency.
Between 1929 and 1934 Anton Stankowski worked in Zurich for the renowned advertizing studio run by Max Dalang. There Anton Stnkowski met the Zurich group whose members included Richard Paul Lohse, Heiri Steiner, Hans Neuburg, Coray, Fischli, and Max Bill. In Zurich Anton Stankowski also completed his "design doctrine" and worked out the basic forms of expression he would continue to draw on in his later work.
In 1934 Anton Stankowski's Swiss residence permit was withheld so he returned to Germany, where he worked as a self-employed graphic artist in Stuttgart. In 1940 Stankowski was inducted into the German armed forces and was a prisoner of war until 1948.
After his internment ended, Anton Stankowski returned to Stuttgart, where he worked as typographer, graphic artist and photographer for the "Stuttgarter Illustrierte".

In 1951 Anton Stankowski founded a graphic design practice of his own. A new cultural circle grew up around Anton Stankowski that included his Stuttgart friends Willi Baumeister, Max Bense, Egon Eiermann, Mia Seeger, and Walter Cantz.
From 1969 to 1972 Anton Stankowski was chairmen of the committee for the visual design of the Munich Olympic Games. In 1972 the graphic artist Karl Duschek joined Anton Stankowski's design practice, taking over the management of the practice in 1975 although the collaboration between Anton Stankowski and Duschek lasted until only recently.
From the mid-1970s Anton Stankowski devoted himself increasingly to painting although he had always painted and produced objects in the Constructive-Concrete style. In the course of a prolific career, Anton Stankowski filled one hundred and sixteen sketchbooks, in which he tried out ideas and experimented with hatching and colour effects. Then there was his photographic work, which exploited to the full a mastery of all the potential afforded by this medium.
Anton Stankowski always drew on his experience of painting and photography in his work as a commercial artist and they are indivisible from it. Anton Stankowski was a past master at deploying colour and line and created expressive logos with extreme economy of means.
Anton Stankowski designed logos for innumerable companies and did memorable visual design concepts, including logos for Deutsche Bank, Viessmann, Iduna, SEL, the Süddeutscher Rundfunk television and radio and many others.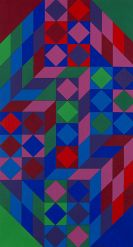 Victor Vasarely
LLA
55,500 $
Details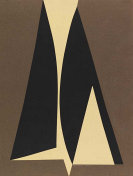 Victor Vasarely
Composition
5,550 $
Details